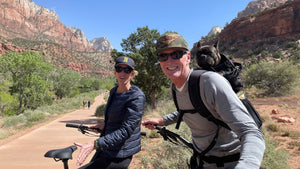 Tom R.
Vehicle: Mercedes Sprinter 144"
Layout: Custom
+ + +
Why did you choose this layout?
Custom layout to fit our intended use
What was your overall experience working w/ the Vanspeed Team?
The team at Vanspeed was great to work with in refining a custom layout we wanted. They were encouraging but also practical with their approach. It was a fun process!
What has been your favorite trip you have taken in your Vanspeed Recreational vehicle?
We've taken 3 long road trips in the last year since taking delivery of our van. Our favorite trip took us through Utah, Montana, Idaho and Oregon where we visited national parks along the way. The van is the best way to travel - our home-away-from-home on wheels.
How has owning a Vanspeed Recreational vehicle change the way you travel?
Having the van has made all the difference in the world as to how we travel. It sounds trivial but having a potty and kitchen where ever we go has made a huge difference in taking a fun road trip. We go anywhere and feel safe being fully self-contained with water, power, heater, refrigerator, bed, etc.
What are 3-5 standout features or aspects of your Vanspeed Recreational vehicle that you appreciate the most?
It's silly but THE POTTY is a huge game-changer on a road trip. Also having a kitchen and lots of storage is appreciated.
How have you modified or personalized your Vanspeed Recreational vehicle? If so, what are they?
The van was built custom to our specifications - no modifications yet.