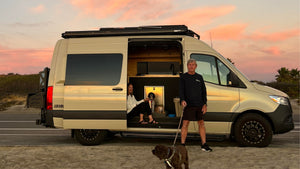 Margaret B.
Vehicle: Mercedes Sprinter 144"
Layout: California Coast
+ + +
Why did you choose the California Coast?
The California Coast layout was an easy pick for us because we really wanted to be able to have a bigger table for eating meals and hanging out, but we wanted to have the garage space. We are so pleased with our selection, it feels like the best use of all of the space. Something we noticed about other van conversions is that there was no space to move about, but when standing in the kitchen area it feels so roomy, even when there are 3 people in it!
What was your overall experience working w/ the Vanspeed Team?
The Vanspeed Team was great to work with. We are located in Maryland so there wasn't much opportunity to do anything in person. We were a bit hesitant to make such big choices over the phone. However, it was such an easy experience. Mowe was so helpful and talked through different options and decisions with us.
What has been your favorite trip you have taken in your Vanspeed Recreational vehicle?
Moab, Utah or the Southern CA Desert! The Van has also already made 3 cross country trips and will likely make another one soon :)
How has owning a Vanspeed Recreational vehicle change the way you travel?
It allows you to focus on the destination instead of the packing, logistics, and all the other pains such as delays, unexpected issues, etc. You have everything you need with you at all times. It is easy to cook breakfast at a trailhead so you can beat the crowds, park in some of the most beautiful spots, and encourages making the most of weekends.
What are 3-5 standout features or aspects of your Vanspeed Recreational vehicle that you appreciate the most?
- High Quality-Beautiful Wood Finishes, which is what sold us.
- The most maximized space without feeling crowded.
- We love the additions to the outside of the rear doors.
How have you modified or personalized your Vanspeed Recreational vehicle? If so, what are they?
We changed the way that the toilet/grey water was set up - now they both sit on a piece of wood that slides out making it easier to access them/empty them.