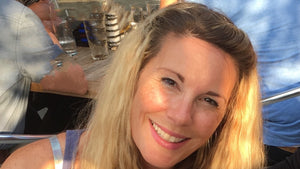 Kristin J.
Vehicle: Mercedes Sprinter 144"
Layout: Evergreen Dream II
+ + +
Why did you choose the Evergreen Dream II
144 WB, jump-seat with 2 additional seatbelts, ability to create U-shape with dining cushions, ability to see out both back windows while driving, versatile floor space for long skinny things or wagons/coolers when the jump seat is put up, and finally, we didn't want the bed to be so close to the ceiling. The layout is perfect for what we use it for, which is luxury travel for long trips, just-right-amenities for 1-3 day trips, and 10-person seating for shuttling to concerts, etc.
What was your overall experience working w/ the Vanspeed Team?
Communication was never an issue, between phone calls and emails I was always kept in the loop! I loved the pictures of my van's progress along the way. The customization options were plenty, yet not overwhelming. The delivery date was on point!
What has been your favorite trip you have taken in your Vanspeed Recreational vehicle?
WILD WILD WEST! I flew from Indiana to California to pick up our finished van, drove solo to Vegas to pick up my family, then up to Zion National Park, Moab, Yellowstone, Deadwood, Sturgis, Mt. Rushmore & Crazy Horse, Flatrock & Denver, Kansas City, then back to Indy. 13 states and 6,000 miles with a family of 4. Amazing!!
How has owning a Vanspeed Recreational vehicle change the way you travel?
Traveling is so much better! We love driving rather than flying. We can take anything and everything we might need, including our bikes, snacks, drinks, bathroom supplies, pillows, folding chairs, & beach wagon. We definitely eat healthier having a refrigerator and cooktop. We are so comfortable being able to stand up & stretch out throughout the drive. The windows give everyone a panoramic view of the scenery. Once parked, we love opening up the back doors and just enjoying the indoor-outdoor feeling.
What are 3-5 standout features or aspects of your Vanspeed Recreational vehicle that you appreciate the most?
(1) Electrical outlets/USB positioned throughout the van. (2) Jump seat & the ability to have the kids buckle up during rough weather and/or highway speeds. (3) The galley drawers, overhead compartments, & under-bench storage keeps the van organized. (4) How easy it is to remove & store the table in order to set up the bed as well as get to bench storage.
How have you modified or personalized your Vanspeed Recreational vehicle? If so, what are they?