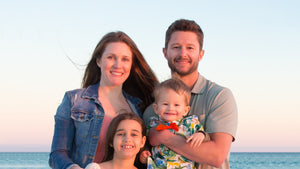 Katie K.
Vehicle: Mercedes Sprinter 144"
Layout: Evergreen Dream II
+ + +
Why did you choose the Evergreen Dream II
We loved the light wood, the bright interior as a whole. The design with the sink at the door was clutch and refrigerator was a must. The bed converting to seating area was gorgeous and a great design and the cabinets! So it was just exactly what we needed with kids. (One under 2 sleeping in our bed and the other with a blowup in the front)
What was your overall experience working w/ the Vanspeed Team?
Mowe and Duran made it easy, they taught us a lot
What has been your favorite trip you have taken in your Vanspeed Recreational vehicle?
Ours is our family's everyday vehicle, so even the most ordinary places become awesome. We are always getting food and eating it with amazing views with the back doors popped. Boondoking in Alhambra Hills, we have camped all the way California to Tennessee and are currently camping in Texas making our way back to ca.
How has owning a Vanspeed Recreational vehicle change the way you travel?
It's changed everything about how we travel we can leave easily and be comfortable anywhere. We don't plan trips we pick a destination and start driving and figure it out on the way. For us it's changed daily life we have everything the kids could need in the van and can turn any event into a longer better day. We can go anywhere and let the toddler nap we don't have to go home for the kids.
What are 3-5 standout features or aspects of your Vanspeed Recreational vehicle that you appreciate the most?
The kitchen design, the cabinets, the ceiling beauty, the heater/ water pump/ceiling fan/solar setup it's perfect. The kids have the table set up at their seat permanently playing. The fridge and bed get a ton of use.
How have you modified or personalized your Vanspeed Recreational vehicle? If so, what are they?
We added the freezer with you between the front seats and it's used a lot. We can't swivel with it easily but we like having it. Small thing but we added a string magnet on the back door where metal is exposed between speakers and hang hats on it. Nice spot with a strong magnet to hang anything. We also added little bamboo metal standing shelves in the cabinets.