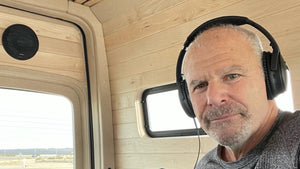 Gary S.
Vehicle: Mercedes Sprinter 144"
Layout: Evergreen Dream II
+ + +
Why did you choose the Evergreen Dream II
We wanted additional seating for our canine and/or human friends. We actually had the layout modified, replacing the settee with a high bed over a large storage garage below with roll-out tray for our mountain bikes.
What was your overall experience working w/ the Vanspeed Team?
It was really really great. They were really really great. Fantastic team, from the top on down. Repeat the proceeding three sentences as needed.
What has been your favorite trip you have taken in your Vanspeed Recreational vehicle?
3 Week loop last fall through CA NV AZ NM TX with mountain bikes, SUPs (inflable) and our two Cattle dogs. 90% off-grid/BLM. We fixed all our own meals, stayed warm at night, left the dogs in air-conditioned comfort while we rode...Downright civilized.
How has owning a Vanspeed Recreational vehicle change the way you travel?
We go more often, stay longer, have more fun, more comfort and we have something to plug our mini toaster oven into. (How else are you going to bake cornbread and chocolate chip cookies in the middle of Valley of The Gods?)
What are 3-5 standout features or aspects of your Vanspeed Recreational vehicle that you appreciate the most?
Function, esthetics, fit and finish, quality of materials, workmanship, reliability, customer service, customer service, customer service.
How have you modified or personalized your Vanspeed Recreational vehicle? If so, what are they?
A ramp for ol' Buddy the dog, because it's gettin' hard to make that jump. National, State park etc souvenir patches (velcro) on the headliner.