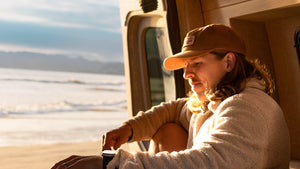 Garrett D.
Vehicle: Mercedes Sprinter 144"
Layout: Evergreen Dream II
+ + +
Why did you choose the Evergreen Dream II
For me this layout was key to being able to bring my whole family comfortably along for the ride. I wanted to build a rig that I could bring the boards, the bikes, and babyseat on all my roadtrips! This layout brought together all the features I was looking for stovetop, fridge, sink, shower, be and the added plus of being able to flip up the bench seat when camping has been huge! This makes sleeping inside SO much more comfortable.
What was your overall experience working w/ the Vanspeed Team?
Mowe & Duran both were incredibly knowledgable from both an interior design and exterior design perspective. The thing I appreciated is that they guided me back to the best options even when my initial ideas were something different. In hindsight I am so glad I trusted their expertise on the customizations and features selected. I now receive lots of good hearted van envy on the road anywhere I take my rig. Thanks crew!
What has been your favorite trip you have taken in your Vanspeed Recreational vehicle?
San Luis Obispo - to - Vancouver Island. We took an amazing 3 week roadtrip through the Pacific North West and it was quite the dreamy adventure. From mountain biking in Whistler to surfing in Tofino, and camping the rig out at every stop along the way with the whole fam. We've got some incredible memories from that trip.
How has owning a Vanspeed Recreational vehicle change the way you travel?
It's a motivator to go the distance! Also, the places you get to stay are so unique and memorable.
What are 3-5 standout features or aspects of your Vanspeed Recreational vehicle that you appreciate the most?
Cargo Box, Surf Rack, Bike Rack, Cruising Comfort AC, hot shower out the back, and I love how the bullet liner finish came together to give the exterior that unique look.
How have you modified or personalized your Vanspeed Recreational vehicle? If so, what are they?
Honestly, came pretty dialed right out of the Vanspeed shop!