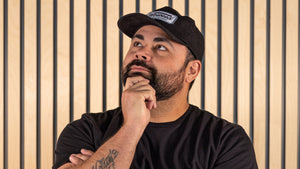 Evan J.
Vehicle: Mercedes Sprinter 144"
Layout: Evergreen Dream II
+ + +
Why did you choose the Evergreen Dream II
I chose the Evergreen Dream 2 because it had all the comforts I'm used to at home. Having a heated shower was a must for me because who wants to take cold showers while on an adventure? Food was also important to me. I needed a layout with a stove and fridge because I love cooking and having fresh food with me. Cooking a delicious meal on the go or storing leftovers in the fridge makes long trips much more convenient and enjoyable.The Evergreen Dream 2 layout is perfect for me. It's practical, well-designed, and maximizes the available space. I appreciate the attention to detail, especially with amenities like the heated shower, lighting, stove, and fridge. These little things make my travels so much more comfortable and enjoyable.
What was your overall experience working w/ the Vanspeed Team?
From the initial design discussions to the delivery of my van, everything was seamless and painless. I was impressed by their efficiency, as I received my customized van in just around 7 weeks.
What has been your favorite trip you have taken in your Vanspeed Recreational vehicle?
For three days, I disconnected from the hustle and bustle of everyday life and immersed myself in my surroundings. Staying off the grid in my van allowed me to truly appreciate the tranquility of my company and create lasting memories that will stay with me forever.
How has owning a Vanspeed Recreational vehicle change the way you travel?
I have the flexibility to go wherever my wanderlust takes me, creating a sense of spontaneity and adventure. The convenience of having a mobile home base allows me to experience the comforts of home while on the road, making every journey more comfortable and enjoyable.
What are 3-5 standout features or aspects of your Vanspeed Recreational vehicle that you appreciate the most?
The spacious and functional layout makes it easy to move around and provides ample storage. Its off-grid capability allows me to explore remote locations and stay self-sufficient for extended periods. The high-quality amenities, durability, and attention to detail enhance my overall travel experience and provide a comfortable home-like environment on the road.
How have you modified or personalized your Vanspeed Recreational vehicle? If so, what are they?
I recently had Vanspeed Install the 'Tread' and 'Power Switch' from Garmin, which has been essential for trail mapping and finding dry camping while on the road.