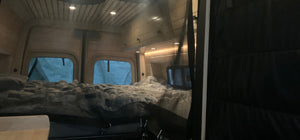 Dave P.
Vehicle: Mercedes Sprinter 144"
Layout: Loft
+ + +
Why did you choose the Loft?
Shower and elevated bed platform with storage area that could accomodate mountain bikes.
What was your overall experience working w/ the Vanspeed Team?
Excellent up front communication, order processing and project coordination (Mowe was outstanding), much shorter leadtime than the competition, well thought out design and flawless construction.
What has been your favorite trip you have taken in your Vanspeed Recreational vehicle?
Family reunion in Big Bend National Park in April and day camping at Laguna Seca Raceway on Mother's Day.
How has owning a Vanspeed Recreational vehicle change the way you travel?
Our two dogs can accompany us wherever we go.
What are 3-5 standout features or aspects of your Vanspeed Recreational vehicle that you appreciate the most?
Layout, robust construction, elegant appearance, quality of appliances and overall craftsmanship
How have you modified or personalized your Vanspeed Recreational vehicle? If so, what are they?
Installed safety netting so dogs can travel safety on elevated bed platform, installed folding jump seat in place of the counter extension (sink cabinet).